Wedding Car Hire
At Fearon's we understand that your wedding day is
one of the most important days of your life. By using
Fearon's you can be certain of the very best in luxury
transport and service from a long established
reputable wedding car specialist.
Our cars hand picked to provide you with the
ultimate in luxury and are completely original and
maintained to the highest standards ensuring they
are both pristine and reliable for your big day.
All our wedding cars come with coordinated ribbons
and bouquets as standard, along with a professional
and experienced uniformed chauffeur who arrives 15
minutes before the arranged collection time and who
will liaise with your photographer on the day to make
sure that everything runs smoothly.
However large or small the journeys you plan to take
on your wedding day are, Fearon's offer a timeless
elegance with the widest range of Rolls-Royce and
Bentley vehicles available in the North East.
Here are a few photographs of our fleet.



© Fearons Rolls-Royce and Bentley specialists
2018
If you would like further information regarding wedding
car hire, please click here and this will take you to
Fearons wedding car hire site.

ROLLS-ROYCE SPIRIT III
Manufactured in 1993, in royal blue stunning paint
work and with a V8 6750cc engine.
The cream leather and white wall tyres are a perfect
accompaniment to a beautiful wedding dress.
ROLLS-ROYCE SILVER SERAPH
This is the last production car made by Rolls-Royce in
Crewe and the newest car in our fleet.
With silver storm paintwork, cream upholstery and
chrome wheels that give it the ultimate bling factor.
BENTLEY S2
(RNL68)
Manufactured in 1962 with a 6250cc engine, this
Bentley is a true British classic.
Paintwork is a two tone silver shell and dove grey and
comes with light grey leather upholstery and
whitewall tyres.
This car was first purchased by Lord Allendale and
has lived and remained in this area for many years.
BENTLEY ARNAGE
The Bentley Arnage got its name from the Arnage
bend at the Le-Mans racing circuit in France.
Fitted with a twin turbo V8 engine this car was the
fastest saloon car in production in its time.
Paintwork is in a stunning dark blue metallic, with
chrome grill and cream leather interior.
ROLLS-ROYCE SILVER CLOUD
(5FRR)
Manufactured in 1955 with a 4887cc engine, this is
our flagship car and comes with two tone silver and
grey unmarked paintwork and light coloured leather
upholstery with whitewall tyres.
The car featured on the TV programme Car's that
Rock Rolls-Royce edition, presented by AC/DC lead
singer Brian Johnson.
BENTLEY S2
(AF 9000)
Manufactured in 1959 with a 6250cc engine, this
Bentley version of the Rolls-Royce Silver Cloud,
started its life in Jersey back in the late 1950's and
was reimported back to England in 1971.
The paintwork is in two tone silver chalice and Tudor
grey and it has been recently reupholstered in cream
leather and comes with fitted white wall tyres.
ROLLS-ROYCE SILVER CLOUD
(LTS54)
This has got to be the best looking Rolls-Royce of all
time. The paintwork is two-tone silver and dove grey
with a beige leather interior and also comes fitted
with privacy divisions.
The classic lines of this car can't help but impress
ensuring its ongoing universal appeal.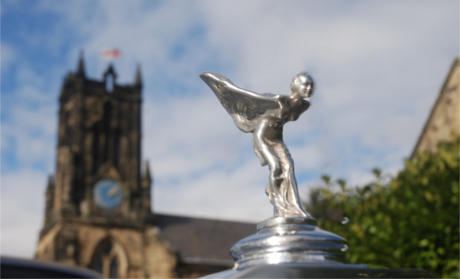 Fearons
Foundry lane
Ouseburn
Newcastle Upon Tyne
NE6 1LH